These are unprecedented times, and while we are practicing social distancing, we urge our dear community members to stay connected with Allah SWT, each other, and the masjid.
To this effect, ICGC has implemented the following:
Nightly Quran recitations by Shaikh Mahmoud Khalil and inspirational reflections by Shaik Hossam Musa.
Virtually resuming Tuesday Ladies Halaqa "Hubb-ul-Quran series"
Be sure to subscribe to ICGC's YouTube channel to stay connected.
Please 
click here
 to subscribe to the channel for instant notifications CLICK On the bell icon after subscribing to get notified when we go live.
The Islamic Center of Greater Cincinnati has many Educational Programs, which over the past year have included:
Ongoing Education Programs:
"Riyadh Us Saliheen"­ weekly Khatira (Wednesdays after Maghreb) with Imam Hossam Musa
"Family Fridays"­  with Imam Hossam Musa covering the Seerah of Prophet Muhammad (pbuh)
Word to Word Quran Class­ with Uzma Siddiqui (Tuesday Mornings­ Ladies only)
 "Gems of Cincinnati- Imam Collaborative series" –  a collaborative effort between the Imams of Cincinnati and Dayton to meet together and share inspiration and knowledge
"Seerah & Dinner with the Community"- monthly sessions for the community to socialize and enjoy dinner/Seerah with Imam Musa; If interested in helping to sponsor these dinners please contact Maria Munir (mmunir@icgc.us)
Past Guest Speakers:
Wisam Sharieff­ "Stand for One Night"­ a review of the Etiquettes of Prayer
Imam MA Azeez­ "Conversations with God­ Why do Pray"
Omar Osman­ "Social Media­ An Islamic Perspective"
Fisal Hammouda­ a youth session­ "Boundaries­ Gender relations in Islam"
Mufti Hussain Kamani­ "Legends of Abu Bakr" and "Lessons from The Story of Musa A.S."
Habeeb Quadri – "Parenting-Who Said it Was Easy?"

Sameera Ahmed- "What We NEED to know about Muslim American Youth"

Sheik Salah Al-Sawi "Fiqh of Zakat:, "Fiqh of Family"
Hassan Shibly "Unapologetically Muslim"
Shaykh Saad Tasleem "Navigating the Muslim American Experience"
In past years ICGC has hosted regional ISNA conferences, as well as speakers including Yasir Qadhi, Nouman Ali Khan, Usama Canon, Imam Mohamed Majid, Ambassador Ebrahim Rasool, Chris Blauvelt, Arthur Richards, Abdullah Waheed, Hamza Maqbul, Jamal Daoudi, and Naeem Baig
Ramadan Programs with Imam Hossam Musa:
Daily "Reflection and Dua"
Weekend Fajr Khatirahs
Please email Samina Sohail (ssohail@icgc.us) if you would like to get involved in the adult education team.
ICGC is committed to bringing a nationally recognized and respected speaker(s). Any views expressed, written, recorded, or communicated by the speaker(s) do not, in whole or in part, necessarily reflect the views of the Center, and are entirely the views of the speaker(s).​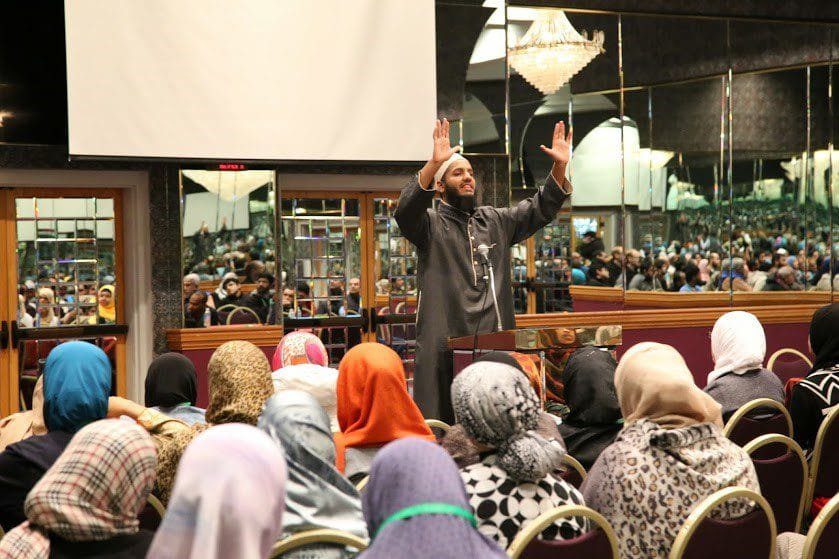 Photo credit: Nauman Mysorewala