The Islamic Center of Greater Cincinnati (ICGC) has two halls (gym hall and lecture/mirror hall) available for rent for special events. If you would like to rent our facilities for your event, complete and submit an application form at least four weeks prior to your event. (An application is available here for download.)
All applications are subject to an approval process based on hall availability and ICGC's licensing rules and regulations. ICGC reserves the right to deny rental to any individual or organization. We will notify you of our decision within five days of your application.
Here, we provide you all of our main rental guidelines. If you prefer a more detailed explanation of rules and regulations, contact our offices and ask for a hard copy to be sent to you.
Reservation and Fees
All inquiries regarding hall rental must be directed to our administrative office during work hours (9:00 am to 5:00 pm). A rental request consists of completing a license application sheet, signing the license agreement, and making a security deposit.
See below for our fees and deposits. The license fee covers hall setup and cleanup.
General Rules
Decoration: To decorate the hall(s) for your event, you must have prior approval of the ICGC administrators. You must also take full responsibility for properly removing all decorations after the event. Scotch tape is not allowed on the walls of either hall. Henna and candles are not permitted in the lecture/mirror hall. Flowers and all décor should be removed the same day of the event.
Food and Drink: This is permitted only in the gym hall. Alcoholic beverages, pork, or pork-related products are not permitted under any circumstances. None of the food is to be cooked on the premises. The kitchen facility is only to be used for heating of food. Food, beverage, etc. must be removed the same day of the event (leftovers should NOT be left behind, no exceptions).
Dress: Men and women are encouraged to dress modestly.
Smoking: Our facilities and property are entirely smoke-free. If you wish to smoke, you must leave the Islamic Center property to do so.
Security Deposit
All rental applications require a security deposit. This is refunded if you leave the facility clean, organized and undamaged. If minor repairs or additional cleaning are needed, the cost is deducted from the deposit. If the cost of repairs exceeds deposit amount, you will be held responsible for the additional cost. If an approved rental application and licensing agreement is cancelled a week before the event, the Center will keep $100 and refund the remainder of the deposit.
Application and Agreement Forms
To rent our facilities, download and submit the application and agreement forms available here. 
Click the link below to download the Hall Rental Agreement for Personal Use. Or fill the form below. For non-profit organizational use please contact our administration office at info@icgc.us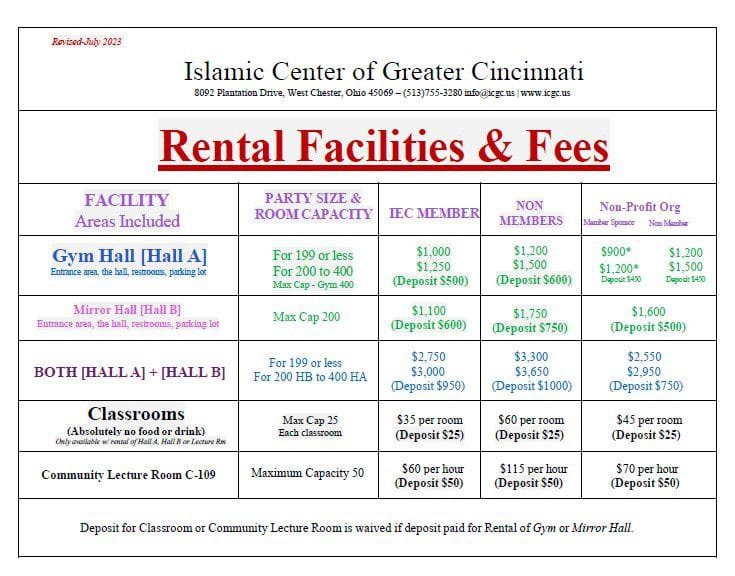 Deposit for Classroom or Community Lecture Room is waived if deposit is paid for rental of Gym or Mirror Hall. Rental inclusive of set up of chairs, tables, clean-up of floors and putting away of chairs and tables; use of trash (not recycle) dumpster for garbage removal; kitchen equipment use (ovens for warming, commercial fridge, stainless tables, sinks, percolators, tray stands) and utensils such as salad tongs, serving spoons, knives, water pitchers) and microphone, if needed. If any equipment is needed, please complete the separate equipment form.