Promote a POSITIVE image of Islam by Changing the Hearts and Minds of People through Combating Islamophobia and Re-engaging Disenfranchised Muslims.
1995- ICGC held its GRAND OPENING
From inception, ICGC has had open doors to broader community
The program has evolved into inbound tours, outbound speakers, workshops & media outreach
With following GOALS in mind:
Introduce ICGC to broader community
Share Beauty of Facility
Who we are as a community, past & present
Architectural context weaved into Islamic backdrop
Alleviate Fears & Misconceptions About Muslims
Understand and respect Muslim American community
Set the stage for the next generation
Relationship building, leadership, opportunities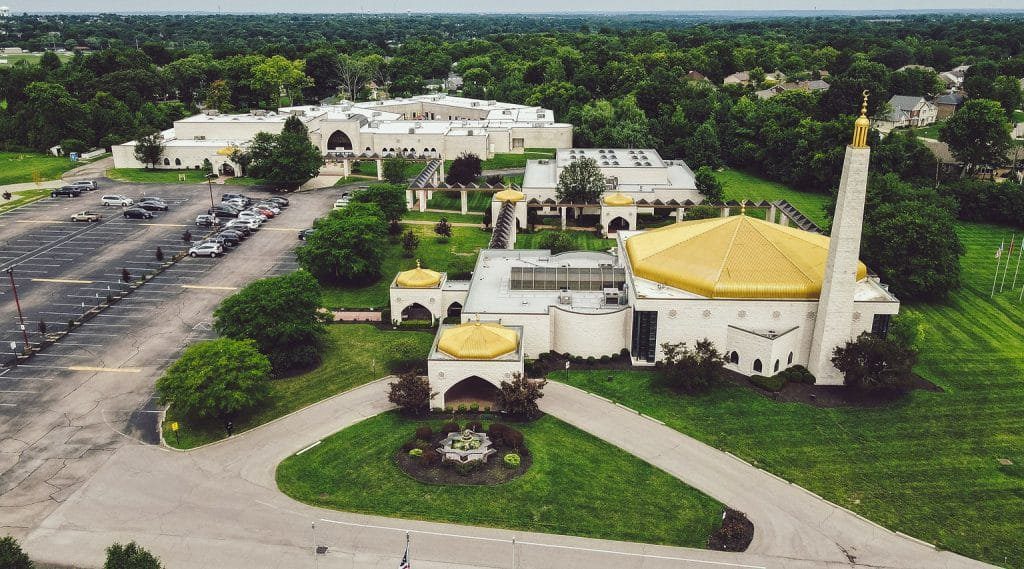 Since INCEPTION, overall reach of ICGC outreach program is over 100,000 people!
ICGC 2030 Strategic Goals
Promote a positive image of Islam by changing the Hearts and Minds of people through Combating Islamophobia and Re-engaging Disenfranchised Muslims
INTERNAL Outreach: ReEngage
(Potentially Disenfranchised Muslims)
Converts/Reverts

Refugees

Widowed/Divorced

Refugees

Young Adults

African Americans/Black community

Elderly, Disabled, Young Families

Losing Faith
School/Universities:

Become the primary resource for Muslim American representation at educational institutions throughout the region

Faith Based Organizations

Become an integral voice at regional and national faith based alliances

Businesses/NonProfits/Healthcare

Become the regional voice for promoting equity, inclusion, diversity, and sensitivity in the corporate/healthcare arena

Local Communities/Elected officials

Enhance Muslim representation in local communities, and broaden Muslim awareness and participation in civic engagement efforts

Media/Communication Plan

Expand ICGC's media presence and develop a robust professional communications plan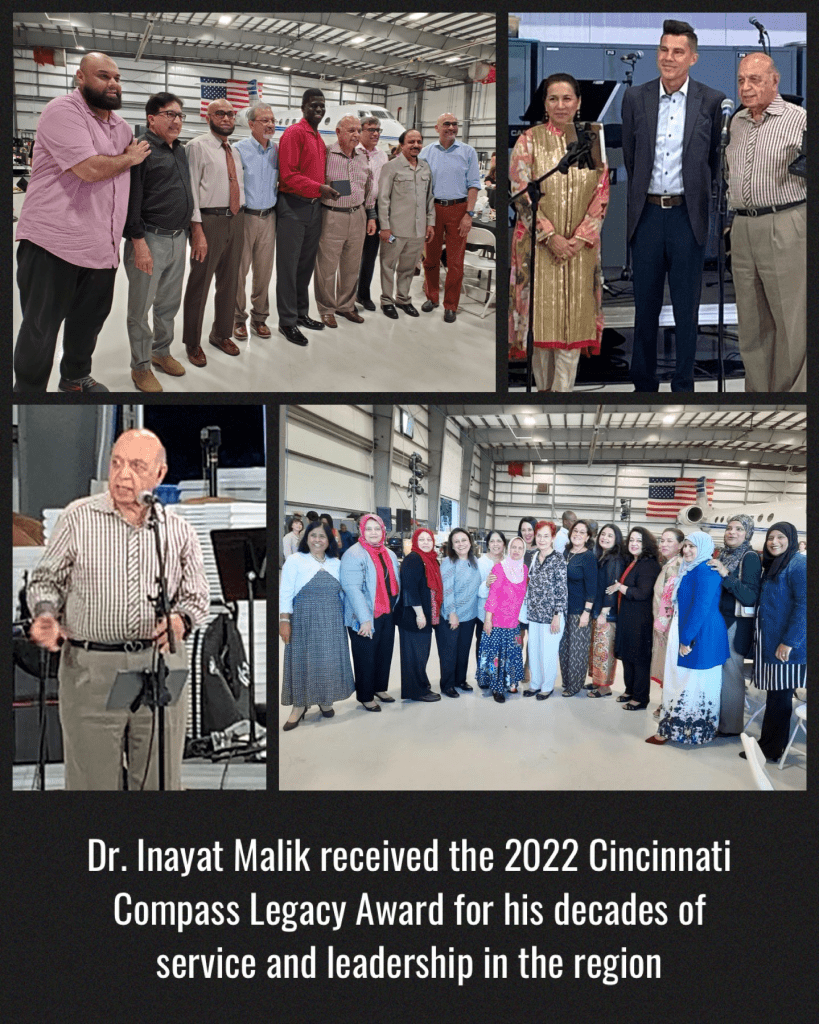 Organizations and Coalitions with whom ICGC has served in Leadership/Collaboration
Leadership Cincinnati 

FBI citizens Academy 

FBI multicultural advisory Council

Cincinnati Regional Coalition Against Hate

EquaSion

Festival of Faiths

Cincinnati COMPASS

Islamic Networks Group 

WCLCA Women of Excellence 

Enquirer women of the year

LADD

Press Releases and Op-eds
Freedom Center

YWCA Cincinnati 

YWCA Hamilton 

UC Foundation 

Xavier University Trustees

Thomas More University Institute of Religious Freedom

Cincinnati Art Museum Cincinnati Playhouse in the Park

Contemporary Art Museum

Ohio Humanities Council 

Cincinnati USA Chamber 

West Chester Liberty Chamber Alliance
Open House tours of the Islamic Center are available on the first Saturday of the month.
TO BOOK A GUIDED TOUR OR TO BOOK A SPEAKER
We have a very active speaker program. ICGC receives many requests for talks from schools, universities, places of worship, law-enforcement centers, media groups, and nonprofit organizations. There is a $50 to $500 cost associated with educational lectures, professional workshops and diversity programs that is based on your organization type and number of attendees. A limited number of need-based scholarships are available for academic or nonprofit institutions
Cincinnati Muslim Professionals Network
Aims to empower Muslim professionals through creating spaces and initiatives that are tailored to strengthening the Muslim identity, both within and outside of the workplace. Our events vary from TED-like talks, tax preparation sessions, networking events, interviewing trivia, to specialized events that aim to build bridges within our community. Our services are catered to fit the needs of our evolving community through providing free professional headshots, as well as free professional resume services. Over the past years, our events have collectively reached hundreds of Muslim professionals in the Cincinnati area.
| Business Name | Business Address | Business Phone | Business Email | Business Website | Business Facebook Address | Type of Business (other than health care) | Type of Health Care |
| --- | --- | --- | --- | --- | --- | --- | --- |
| Westside Adult and Pediatric Care | 7225 Colerain suite 103 | 5136813500 | Wsapc@yahoo.com | | | Other (list below) | Physician - Family/Internal Medicine |
| Medex Pharmacy | 7967 Cincinnati Dayton road suite p west Chester Ohio 45069 | 5137551891 | Medexpharmacy2020@gmail.com | https://www.medexpharmacy.net/ | | HEALTHCARE (specify in question after below) | Pharmacist |
| Physician | 6010 Mason Montgomery Rd, Mason, OH 45040 | 513-246-7027 | NA | TriHealth.com | | HEALTHCARE (specify in question after below) | Physician - Neurologist |
| Kaizen Family Dental | Unit# 103 - 7665 Monarch court, West Chester Ohio 45069 | 5134633000 | contact@kaizenfamilydental.com | www.kaizenfamilydental.com | | HEALTHCARE (specify in question after below) | Other (List in question below) |
| Smart Cloud Solution | 6144 Villas Creek Cir | 5137062031 | shehzad@SmartCloudSolution.com | www.SmartCloudSolution.com | https://www.facebook.com/smartcloudsolution/ | Other (list below) | NOT HEALTH CARE WORKER |
| Cakes by Aliya | 7559 Barret Rd. West Chester, Ohio 45069 | 518-364-0054 | Aliya.k2586@gmail.com | | https://www.facebook.com/profile.php?id=100089543261226 | Other (list below) | NOT HEALTH CARE WORKER |
| University of Cincinnati | 234 Goodman avenue Cincinnati Ohio | 5134758500 | drtahirlatif@yahoo.com | | | HEALTHCARE (specify in question after below) | Physician - Cancer/Oncology |
| Fresh Dental | 11907 Montgomery Road | 513-697-1211 | Freshdentaloh@gmail.com | Www.freshdentaloh.com | Freshdentaloh | HEALTHCARE (specify in question after below) | Dentist |
| Avis Budget rental | Jedax | 5133369690 | avisofmason@gmail.com | 1-Avis.com 2-Budget .com 3- budget truck.com | | Shop (include in other what type of shop) | NOT HEALTH CARE WORKER |
| Eman Enterprises | 4457 Bethany road Mason Ohio 45040 | 8594333786 | Mushee1111@gmail.com | Eman-enterprises.business.site | Eman Enterprises | Other (list below) | Other (List in question below) |
| Yummy Sweets | West Chester / From Home | 5136020256 | lama.alnammari@gmail.com | https://www.instagram.com/yummysweets9/ | https://www.facebook.com/LamarYummySweets | Other (list below) | NOT HEALTH CARE WORKER |
| Rizk Consulting LLC | West Chester OH | 4344220271 | Rizkconsultllc@gmail.com | | | Other (list below) | NOT HEALTH CARE WORKER |
| Everlast Concrete & Blacktop | 1108 imprint lane Cincinnati OH 45240 | 513-817-8817 | Everlastcb@gmail.com | | | Other (list below) | NOT HEALTH CARE WORKER |
| Vital Care Of West Chester | 8731 Union Centre Blvd, West Chester Oh 45069 | 5137805880 | kahmed@vitalcare.com | Vitalcare.com | | HEALTHCARE (specify in question after below) | Pharmacist |
| Javaria Usmani Real Estate Agent | 9078 Union Center Blvd ,suite 350 West Chester OH 45069 | 513-465-5412 | javariausmani1@gmail.com | javariausmanirealtor.com | Javaria Usmani | Realtor | Other (List in question below) |
| Degs chicken | 2727 Fairfield commons blvd | 9373068123 | Nhaq@degs.com | www.degs.com | Degs chicken | Restaurant | Physician - Nephrologist |
| Sk Tax & Accounting | 8965 Walnut Ridge West Chester | 5133493806 | Sk@sktaxaccounting.com | Sktaxaccounting.com | sk tax & accounting | Financial Planning | NOT HEALTH CARE WORKER |
| SK Designs | Greater Cincinnati area | 5132967277 | sadia@skdesigns.me | Skdesigns.me | Facebook.com/skdesigns.me | Other (list below) | NOT HEALTH CARE WORKER |
| Fadia Rawas- Real Estate Agent /Keller Williams Advisors | 9277 Center Pointe Dr. #200 West Chester OH 45069 | 513-884-9955 | fadiarawas@gmail.com | | | Realtor | NOT HEALTH CARE WORKER |
| Dazzle Catering | 6688 Apache way, West Chester 45069 OH | 5136922173 | Sobiamuzaffar1gmail.com | | Dazzle Catering (Facebook Page) | Catering | Other (List in question below) |
| Saira's Collection by Mahrukh Ali | 5146 Birchwood Farms Dr. | 513 293 4288 | NA | NA | NA | Other (list below) | NOT HEALTH CARE WORKER |
| Samina Ahmed M.D | TriHealth 8040 Princeton Glendale Rd Westchester 45069 | 5132467000 | NA | Trihealth.com | | HEALTHCARE (specify in question after below) | Physician - Pediatrician |
| Will Wander for Adventure | 1590 Napoleon Ln | 5133718580 | info@willwanderforadventure.com | https://www.willwanderforadventure.com | https://www.facebook.com/willwanderforadventure | Other (list below) | NOT HEALTH CARE WORKER |
| Kitchen Master | Greater Cincinnati Area | 513-669-6077 | Contact@kitchdnsmasters.com | www.kitchensmasters.com | Kitchen Master | Market | NOT HEALTH CARE WORKER |
| Berkshire Hathaway HomeServices / Cyma Shahzada | 5700 Gateway Blvd Mason, OH 45040 | 513-394-2396 | cymashahzada@gmail.com | | | Realtor | NOT HEALTH CARE WORKER |
| Clinical Research Coordinator | Trihealth hospital | NA | NA | | | Other (list below) | Other (List in question below) |
| Dayton motors llc | 853 E 1st St, Dayton OH 45402 | 9477828202 | Info@daytonmotorsllc.com | www.DaytonMotorsLLC.com | | Car Dealer/Showroom | NOT HEALTH CARE WORKER |
| Every Detail Car Detailing | West Chester | 513.518.7942 | r.khan@eddetailing.com | Www.eddetailing.com | https://instagram.com/cardetailingcincy | Other (list below) | NOT HEALTH CARE WORKER |
| Medina Nursing LLC | 1172 W. Galbraith RD suite 213 | 5136011579 | Medinanursingservices@gmail.com | Medinanursingservice.com | | HEALTHCARE (specify in question after below) | Nurse |
| Djibril Thiaw, cpa | 351 Wood Ave | 5132006170 | thiawd@gmail.com | | | Financial Planning | NOT HEALTH CARE WORKER |
| Comey & Shepherd | 7870 E Kemper Rd, Suite 100. Cincinnati, OH, 45249 | 5133187130 | jbaloch2016@gmail.com | www.comey.com | | Realtor | NOT HEALTH CARE WORKER |
| Kumon Math and Reading Center of Springdale | 11556 Springfield Pike, Springdale OH 45246 | 513 999 5100 | jereenaameen@ikumon.com | www.kumon.com/springdale | | Other (list below) | NOT HEALTH CARE WORKER |
| Zahida P Kaukab MD | 5554 Cheviot road Cincinnati Ohio 25247 | 513-621-3360 | Zahidapkaukabmd@yahoo.com | | | HEALTHCARE (specify in question after below) | Physician - Family/Internal Medicine |
| Mahasen Al-Asma (The Beauty of The Names) | 6504 Plainfield rd Cincinnati | 3305065855 | Mahasen.al.asmaa@gmail.com | | | Shop (include in other what type of shop) | NOT HEALTH CARE WORKER |
| Spirit Homecare & Hospice | 8849 Brookside Ave, Ste 101 | 513-772-0575 | spirithomecare@gmail.com | spirithomecareohio.com | https://www.facebook.com/spirithomecareohio | HEALTHCARE (specify in question after below) | Other (List in question below) |
| ABD Medical, LLC | 270 Regency Ridge DR, Ste 104, Dayton, OH 45459 | 513-988-8550 | info@abdmed.com | www.abdmed.com | | Shop (include in other what type of shop) | NOT HEALTH CARE WORKER |
| Bakali Medical Associates | 3035 Hamilton Mason Rd | 5138633999 | bakalimed3035@gmail.com | | | HEALTHCARE (specify in question after below) | Physician - Family/Internal Medicine |
| Luxor Stone Group | 2130 Stapleton Ct, Cincinnati, OH 45240 | 513-307-3332 | alex@luxorstonegroup.com | www.luxorstonegroup.com | https://www.facebook.com/luxorstonegroup | Other (list below) | NOT HEALTH CARE WORKER |
| Saad Hasan, MD | 2123 Auburn Ave, Suite 201, Cincinnati, OH 45219 | 513-206-1170 | saad.hasan@thechristhospital.com | | | HEALTHCARE (specify in question after below) | Physician - Surgery |
| Embellished Occasions LLC | 7980 South Port dr. | 5133003015 | embellishedoccasions1@gmail.com | https://embellishedoccasio.wixsite.com/embellishedoccasions | | Other (list below) | NOT HEALTH CARE WORKER |
| Ginger to Remember LLC | 7723 Tylers Place Blvd #184 | 5132687046 | info@gingertoremember.com | gingertoremember.com | | Other (list below) | Other (List in question below) |
| Hook fish and chicken | 3500 reading rd | 5137650547 | Mohammadomran3500@gmail.com | | | Restaurant | NOT HEALTH CARE WORKER |
| Hook fish and chicken | 7312 kings gate way West Chester 45069 | 5137650547 | Mohammadomran3500@gmail.com | | | Restaurant | NOT HEALTH CARE WORKER |
| Class101 | 7967 Cincinnati Dayton Rd | +1 (513) 296-7770 | necincy@class101.com | Class101.com | | Other (list below) | Other (List in question below) |
| Ownerland Realty | West Chester, OH | 513-886-7860 | smaricar@hotmail.com | | | Realtor | Other (List in question below) |
| Khan Farms | Farukh khan | 19373019118 | farukhkhan1087@gmail.com | | | Other (list below) | NOT HEALTH CARE WORKER |
| Smiles 'n Spice | 8216 Princeton Glendale Rd, West Chester, Ohio,45069 | 513 904 6789 | Team@smilesnspice.com | Www.smilesnspice.com | Smiles 'n Spice | Catering | NOT HEALTH CARE WORKER |
| Muhammad Iqbal Kaukab Realtor | 7870 E. Kemper Rd Cincinnati Ohio 45249 | 5132526123 | mkaukab@comey.com | Iqbal@kaukab.net | | Realtor | NOT HEALTH CARE WORKER |
| Mahmoud Kassem | West Chester | 6149664155 | Kassem.16@outlook.com | | | HEALTHCARE (specify in question after below) | Other (List in question below) |
| Emerald home advisors | 7739 Tylers Place Blvd, west chester OH 45069 | 513-885-1794 | Hossamelsayed@emeraldhomeadvisors.com | WWW.hossamelsayed.com | | Realtor | NOT HEALTH CARE WORKER |
| Smileodontics | 5236 Cedar Village Drive | 513-229-3100 | jameelkhandds@gmail.com | | | HEALTHCARE (specify in question after below) | Other (List in question below) |
| Quick Stitch | 7390 Tylersville Rd (Inside Meijer) | 5132023665 | QuickStitchOH@gmail.com | www.quickstitchoh.com | | Shop (include in other what type of shop) | Other (List in question below) |
| Geotechnical Consulting & Testing LLC | PO Box 989, Westchester, OH 45071 | 513-777-0058 | geotechnical.consulting@gmail.com | | | Other (list below) | NOT HEALTH CARE WORKER |