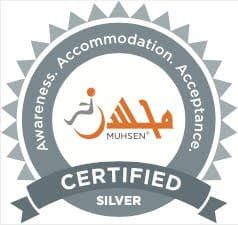 Special Needs Programs and Services at ICGC Partnered with MUHSEN
Here at ICGC we are continuously striving to make our mosque an accessible and inclusive place for all Muslims, including those with special needs. As a part of this process, we have partnered with MUHSEN to help support our efforts. MUHSEN, Muslims Understanding and Helping Special Education Needs, is a national organization that certifies mosques working towards acceptance and accommodation of those with a disability. To find out more about MUHSEN, watch this video with Shaykh Omar Suleiman or visit their website.
For all inquiries, please contact our special needs facilitator, Shazia Dahar at (sdahar@icgc.us).
You may also contact our Special Needs Advisor to the Board, Shabana Ahmed, (sshakirahmed@icgc.us).
For questions regarding the special needs weekend school, please contact our lead teacher, Samira Saidi at (ssaidi@icgc.us)
ICGC want to help advocate for universal accessibility of worship. In that regard, ICGC also has accommodations for elderly like salat buddies, an adaptive device to help in sujood and braille Quran for vision impaired in our library.
Alhamdulillah, ICGC has established a unique Islamic Weekend School for special needs children. This program provides an opportunity for all students to learn about Islam. The program emphasizes an inclusive and individualized approach to learning about the principles of our faith and introduces students to the Arabic alphabet, Quran, and salat practice. Our future plans include:
– Wheelchair access
– Accommodations in wudu and prayer services
– Respite and family supports
– Inclusive opportunities at community events
We hope to continue to promote programs that further increase involvement and understanding of special needs in our community as a whole.
Alhamdulillah, ICGC is proud to be certified by Muhsen and is committed to supporting MUHSEN in their efforts to help families with Special Needs. 
MUHSEN, Muslims Understanding and Helping Special Education Needs, certifies Masajid which work towards accommodating special needs community members. Please do your part as follows:
We want to know the requirements of Special Need Families in our community. If you have a family member with Special Needs, please click on the link below to fill out a Needs Assessment Survey.  All responses are confidential and will only be provided to the Muhsen team.  https://muhsen.org/need-survey/