El-Sewedy International Academy of Cincinnati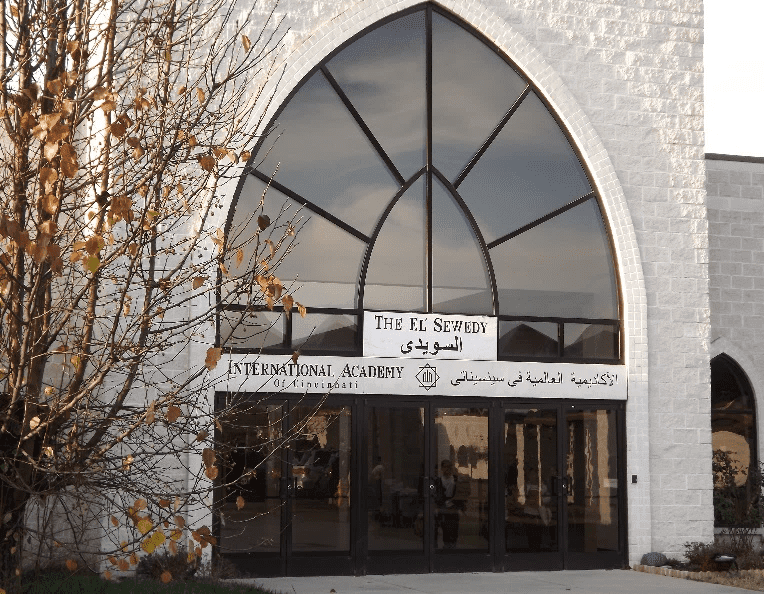 In 1996 a concerned group of parents from the Islamic Center of Greater Cincinnati (ICGC) sought to find a way to educate their children in an atmosphere of spiritual and academic excellence. A religious based philosophy of caring discipline and parental involvement guided the efforts and decisions of the group. Their combined personal commitment and strong faith insight led to formation of the International Academy of Cincinnati – a full-time, independent, private school in West Chester, Ohio.
The school opened in 2000 with sixteen preschool and kindergarten students. The classrooms were temporarily housed in the Community Center of the ICGC while construction of the school was in progress. In the fall of 2001 the new building, which is adjacent to the Community Center, was dedicated. The school building has twenty-three classrooms, an art room, music room, computer lab, science lab, library, and cafeteria. During the early years of the school a new grade level was added each year. By the spring of 2004 the number of students in the school had more than doubled, and the school received a charter for Grades K-8 from the State of Ohio Board of Education while maintaining its preschool program license.
The Academy welcomes children of all faiths to attend. It has followed the Lakota Local School District curriculum since its inception and is working towards implementing Ohio's New Learning Standards for math, English language arts, social studies, and science. The Academy also offers art, music, creative writing, technology, and physical education as well as a religious curriculum (Islamic and Qur'anic Studies), and foreign language (Arabic).
The school board has eleven members and meets on a quarterly basis. The Academy also has a Parent Teacher Organization (PTO) which is open to all parents who have students enrolled in the school. The students, staff, administration, and board reflect the cultural diversity that reflects the community.
Visit their website at www.intlacademy.org or call 513-755-0169