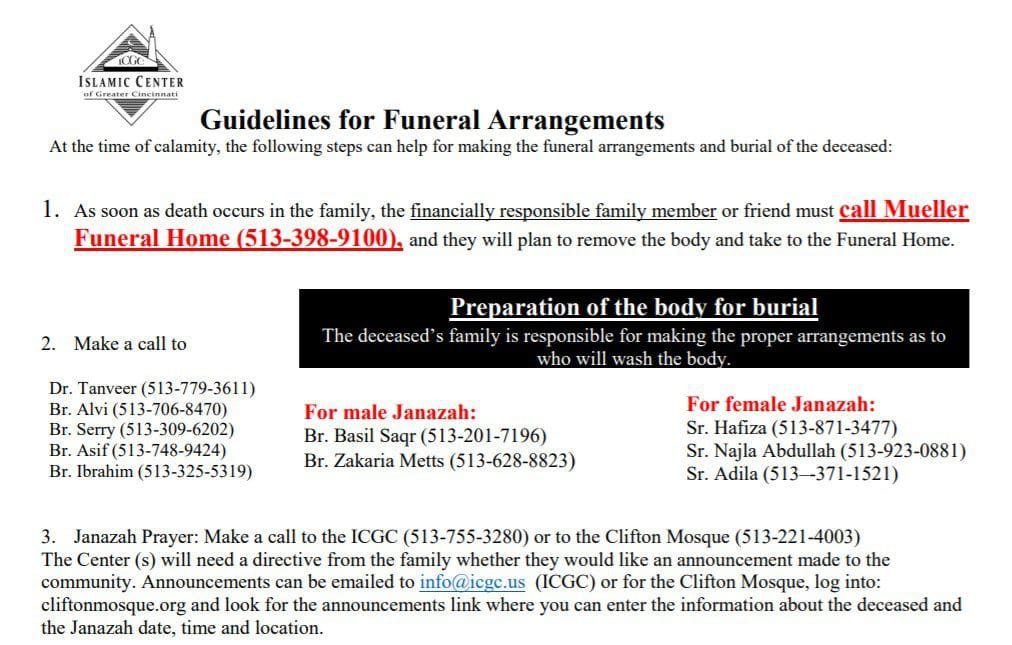 Funeral Home will arrange with Crown Hill Cemetery for burial Total Cost: $4,400.00/-  
Includes: Burial Package, Opening and Closing of Grave, Cost of Burial Space and suggested Donation of $200.00  to ICGC to cover other expenses (including Coffin, Washcloth, etc)* The total cost for burial services are subject to change from time to time and the amount must be paid to the Funeral Home at  the time of the service. This total does not include additional overtime charges as follows
Saturday Burials: Between 9:00 AM to 12:00 Noon Additional cost of $100.00/
Saturday Burials: Between 12:00 AM to 3:00 PM – $300 per burial
Sundays Burials: or (any other day)after 3:30 PM Triple charges
Note: It is the responsibility of the family to wash the body for burial preparation. The funeral home will be able to assist in this process. Imam Musa (513-724-4626) will also be helpful.
Funeral Assistance:
If you need assistance with funeral costs, please click here to fill out this form and someone from our team will reach out to you soon, inshAllah.
FEMA COVID-19 Funeral Assistance program
The COVID-19 pandemic has brought grief to every corner of our nation, taking the lives of over 700,000 people. The Federal Emergency Management Agency (FEMA) is committed to reducing the financial burden of these deaths and is providing individuals who incurred COVID-19-related funeral expenses with funding for eligible costs. Since FEMA began the program, over one billion dollars in assistance has already been distributed.
FEMA is providing financial assistance for COVID-19-related funeral expenses incurred on or after January 20, 2020. Like other federal assistance, these funds cannot be used in duplication of other programs. Click on the link below to learn more about the FEMA COVID-19 Funeral Assistance program, guidelines, eligibility requirements, and types of services funded.  Instructions on how to apply for this assistance through FEMA's dedicated helpline at 1-844-684-6333 can also be found on the website. Helpline representatives are trained to provide personal application support and answer any questions regarding program eligibility. All questions should be referred to the FEMA Helpline or its website,
Funeral Home for Islamic Burial
Mueller Funeral Home: 6791 Tylersville Rd. Mason, OH 45040
Funeral Director: Jack Mueller  office 513-398-9100 | cell 513-300-1224 
Islamic Burial Space
Crown Hill Memorial Park: 11825 Pippin Rd, Cincinnati, OH 45231 | Phone: 513-851-7170
Contact us to work with you as best as we can. Our team members are here to help. Call our office at (513) 755-3280 or email info@icgc.us or funeral@icgc.us